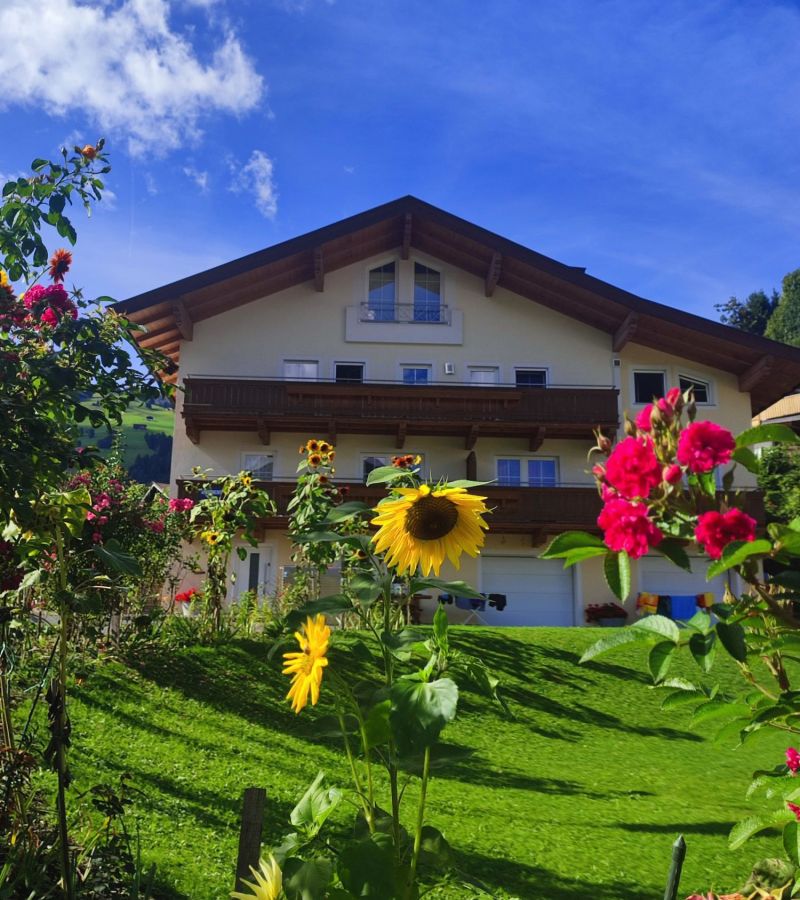 Appartementhaus Christine in Brixen im Thale
In a sunny, quiet, central location with a wonderful view of the Alps.
It is only about 250m to the gondola "Hochbrixen" with access to the SkiWelt Wilder Kaiser Brixental and the village center of Brixen im Thale.
Perfect starting point for numerous mountainbike tours in the Kitzbühel Alps.
We offer our guests a fully equipped bicycle workshop, as well as the possibility of bike cleaning, e-bikes can be charged free of charge, and a lockable bicycle cellar (in winter: ski room including boot dryer) is also available.
The children enjoy playing in the large garden with a playground and lawn.
Online Booking
Online Booking
Click here to calculate the price, check availability and for book an apartment!
Brixen im Thale
Conscious of tradition and quality - you will find top quality here
Unlike many other Alpine valleys Brixental does not end in a valley head, but is open to both sides. It connects Inn Valley in the west with the Kitzbühel region in the east. Nestled among gentle grassy hills with extensive pasture areas, lies the charming village of Brixen im Thale in the heart of Brixental Valley, some 10 minutes away by car from famous Kitzbühel. In summer it is a perfect starting point for hikes and cycling tours. Furthermore, the village is part of the ski area SkiWelt Wilder Kaiser - Brixental, which in winter promises unlimited skiing fun.
In Summer, a leisure facility in Brixen im Thale with an adventure swimming pool, swimming lake, beach volleyball court, Kneipp facility, tennis courts and an idyllic fishing pond provides variety. The Filzalmsee on Hochbrixen has become a crowd puller and is surrounded by many attractions for playing and discovering. It is also the starting point for many wonderful alpine pasture and themed hikes.
Brixental Valley with its unique location presents winter sports fans with some tricky decisions: Either go carving in one of the biggest and most modern ski areas in the world, the SkiWelt Wilder Kaiser - Brixental, or visit the legendary ski area KitzSki. Altogether, more than 518 km of optimally groomed and supervised pistes for all levels are available to you. State-of-the-art gondolas and lifts will carry you up to the impressive panoramic mountains of the Kitzbühel Alps
Our Apartments
Apartment 1
Apartment 1
There are 2 bedrooms with double beds and 1 sofa bed in the living room.
Suitable for 6 people in total.
Apartment 2
Apartment 2
There is 1 double bedroom and 1 sofa bed in the living room.
Suitable for 4 people in total.
Top floor apartment
Top floor apartment
There is 1 bedroom with double bed and in the living room 1 sofa bed.
Suitable for 2-4 persons.
Centrally located
Brixen i.T. cable cars (3 min.), swimming pool, restaurants, cafes, stores (5 min.)
Wintertime
Heated ski storage room, ski boot dryer, close to the ski slope.